Cybersecurity
(Bachelor of Science)
Solving today's challenges
and providing a secure future.
Cybersecurity
(Bachelor of Science)
Solving today's challenges
and providing a secure future.
---
Cybersecurity (B.Sc.) at Saarland University
- taught in English
---
New!
Fully taught in English. Starting in Winter term 2021/2022. Apply from April 30, 2021!
New! Fully taught in English. Starting in Winter term 2021/2022 Apply from April 30 - July 30, 2021
Du möchtest lieber auf Deutsch studieren?
Zum deutschsprachigen Bachelorstudiengang Cybersecurity geht's
hier!
Young and central field with a bright future
Close collaboration with leading research institutions on site
Unique study program fully taught in English from the very first semester
Opportunitites for Language Courses and Internships complement course work
Large variety of IT-Security topics in lectures and seminars to choose your specialization
Continue on site after your Bachelor Degree with a Master's Course in Cybersecurity or Entrepreneurial Cybersecurity or PhD Preparatory phase with the Graduate School for Computer Science and a PhD Career at CISPA.
Threats to cybersecurity have manifested in our daily life. Faulty computer systems are used for spying on and sabotaging even the most security-critical infrastructures (e.g., energy and water supply, health or transportation network), and the abundance of readily available, large-scale, privacy-sensitive datasets imposes unprecedented risks to user privacy. Consequently, there is an almost unlimited demand in cybersecurity professionals, both in the academic market and in industry.
Saarland University therefore teamed up with the CISPA Helmholtz Center for Information Security to offer a unique Cybersecurity B.Sc. program that teaches Cybersecurity essentials from the very start. CISPA is the #1 research institution for Cybersecurity world-wide, which ensures high scientific quality and fuels a broad selection of topics which build on CISPA's cutting-edge research. And best of all: courses in this program are fully taught in English, opening the program to international students.
---
---
Solving today's challenges
and providing a secure future.
---
---
Cybersecurity:
a Study Program with a (secure) Future
The Program lasts six semesters finishing with the degree "Bachelor of Science (B.Sc.)". State-of-the-art research in Cybersecurity is complemented with elements of a regular Computer Science program. Students will be able to specialize early by choosing their elective subjects from a broad range of topics, directly fueled by state-of-the-art research in Cybersecurity at CISPA. Additionally, students attend language courses and Computer Science courses taught in cooperation with other excellent Computer Science institutions on site.
---
Program Details and Example Schedules
Have a look at our example schedules for your Cybersecurity Course providing you with the opportunity to choose your elective courses according to your preferred focus: Cryptography, Software Security, or Human-Centric Security.
---
---
Our program aims to build up the next elite cybersecurity experts and is therefore competitve. We select the best among the best, which also creates a great learning atmosphere once you are admitted. Since our program is held in English, proficient knowledge of English (level C1) is required.
Students have to file an application folder via the Online Application System at Saarland University. Best candidates will then be selected by our Jury. Please find detailed information on prerequisites at the Bachelor's website of Saarland University:
---
---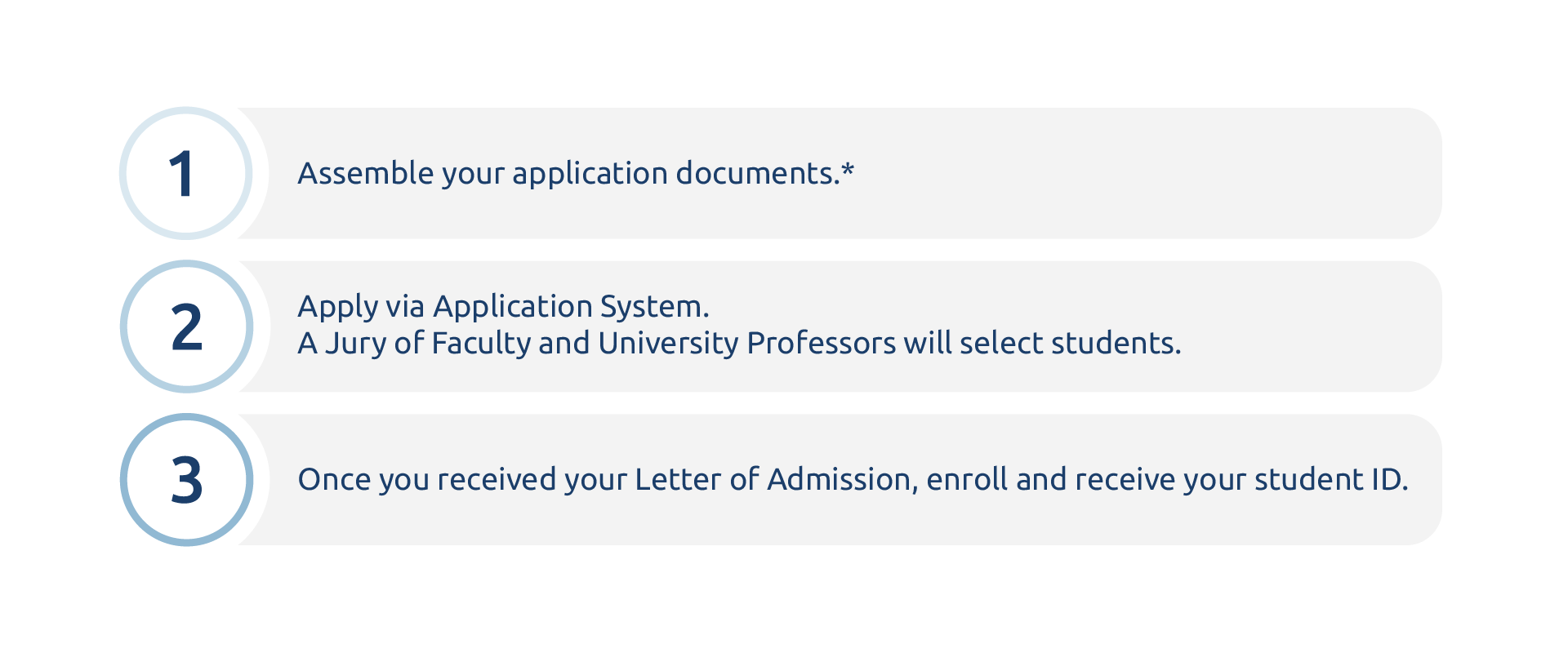 Application documents*:
Curriculum Vitae, High-School diploma, aptitude test, English certificate. Your application consists of 2 elements:
a high-school diploma that is eligible as a German university entrance qualification, and
he results of an aptitude test (SAT or TestAS) and an English proficiency test (IELTS or TOEFL unless you are a native speaker). (If you are unable to provide those two results, your can either provide a certificate proving that you have taken part in the (semi-)finals or of an international Computer Science competition (such as IOI ), or come to Saarbruecken in person for an on-site interview.) All applications will be ranked according to your high-school diploma final grade and the grades achieved in the second component (if applicable). Available seats will be filled from top to bottom.
During the admission process, you will be provided with more information on how to prepare your stay as well as (optionally) on your stipend and apartment. Once arrived, we will guide your through the first few days during our Welcome Week.
---
---
Early
Admission
Apply
until January 1
Regular
Admission
Apply from May 1
until July 30
---
The Cybersecurity Course starts every Winter Term. Students are admitted twice per year: Early Admission (in January) and Regular Admission (July). We are taking applications for Regular Admission from April 30, 2021. Please apply via the Online Application Portal of Saarland University. Our jury will then select the most qualified students to be notified of their acceptance 2-3 weeks after the application deadline, on average.
---
Spitzenforschung
Profilschwerpunkte in Informatik, Nanowissenschaften, Europa schaffen ein konkurrenzfähiges Profil der Universität in Kooperation mit den anliegenden Forschungszentren.
Qualität
in Studium und Lehre
Top-Platzierungen in CHE-Rankings, ausgezeichnete Betreuung, moderne Infrastruktur auf einem gut vernetzten Campus.
Internationalität
Nicht nur durch die Grenznähe, auch durch internationale Studiengänge und Kooperationen wird Internationalität gelebt.
Campus-Leben
Gut mit öffentlichen Verkehrsmitteln an die Innenstadt angebunden, liegt die Universität in Waldnähe und bietet schon auf dem Campus direkt Sport- und Freizeitaktivitäten zum Ausgleich.
Previous
Next
---
---
In Strategic Collaboration with CISPA
CISPA Helmholtz Center for Information Security is a German national Big Science Institution within the Helmholtz Association. Our research encompasses all aspects of Information Security.
CISPA is fueling the contents of the study programs in Cybersecurity at Saarland University ensuring that seminars and lectures will contain state-of-the-art research topics. Cybersecurity is a young and fast-evolving area. As a Helmholtz Center for Information Security, CISPA is dedicated to cutting-edge foundational research combined with innovative application-oriented research in the areas of cybersecurity and privacy. We are committed to the highest international academic standards and offer a world-class research environment that grants extensive resources to a wide range of researchers and that constitutes an attractive destination for the best talents and scientists from all countries.
---